Their names are "Birkin", "Kelly" and "Constance". Together, they form the most coveted trio of the Hermès French house. But how has the rating of these iconic models changed over the last twelve years?
There are multiple factors explaining their price increases over time :
A limited production capacity, leading to a higher demand than the offer available especially for rarer bags such as the ones featuring exotic skins.
Frequent retail price increases due to higher costs of leather and exotic skins.
The fact that throughout the years, these bags have been a fashionable item that every woman dreams of.
The « Birkin »
A 2018 study from Quartz found that Birkin bags had average annual returns of 14.3% between 1980 and 2017, significantly beating the S&P 500's 8.7% and gold's 2.1%.

Furthermore, the average price of the Birkin bag was multiplied by 2.2 between 2006 and 2018 for leather models.
It is important to remember that some Birkin models, including rare colors, exotic skins, mini versions or limited editions such as the "So Black" remain rare and sought after pieces whose value is rising sharply.
An exclusive model can reach all time highs – such as this Birkin White Himalaya Niloticus Crocodile Diamond hardware sold for $379,261 at a Christie's auction in 2017.
Be sure to check our selection of Birkin Bags here such as this exclusive Birkin 25 Niloticus Crocodile White Himalaya Palladium Hardware.
The « Kelly »

Praised by women internationally and a symbol of the French way of life, the Kelly bag from Hermès Kelly rating has quadrupled between 2006 and 2018, for leather models. A yearly 33,33% price increase on average.
Hermès' historic model, the Kelly, whose production is limited, remains a highly coveted piece.
Furthermore, Kelly's vintage leather box models, no longer used by Hermès, can only be found on the second-hand market.
Moreover, with the Birkin bag, another it-bag of the house, they represent more than a third of volume sales for Hermès.
Check our available collection of Kelly Bags here such as this Kelly 35 Picnic Barenia Palladium Hardware.
The « Constance »
The average price of the Hermès Constance bag has increased tenfold between 2006 and 2018 for leather models. This translates to a 76,92% yearly average.
This price increase makes this model the most impressive in terms of progress of rating by far. This is partly thanks to a redesign of the former model, in 2012. As a result, the colors are more vivid and the inside of the bag is features a second patch pocket. You can also wear this model on the shoulder as well as by hand. This appeals to those who like to associate "practicality" and " aesthetic ".
See our selection of Constance bags here such as this Constance Mini Rouge de Coeur Epsom Gold Hardware.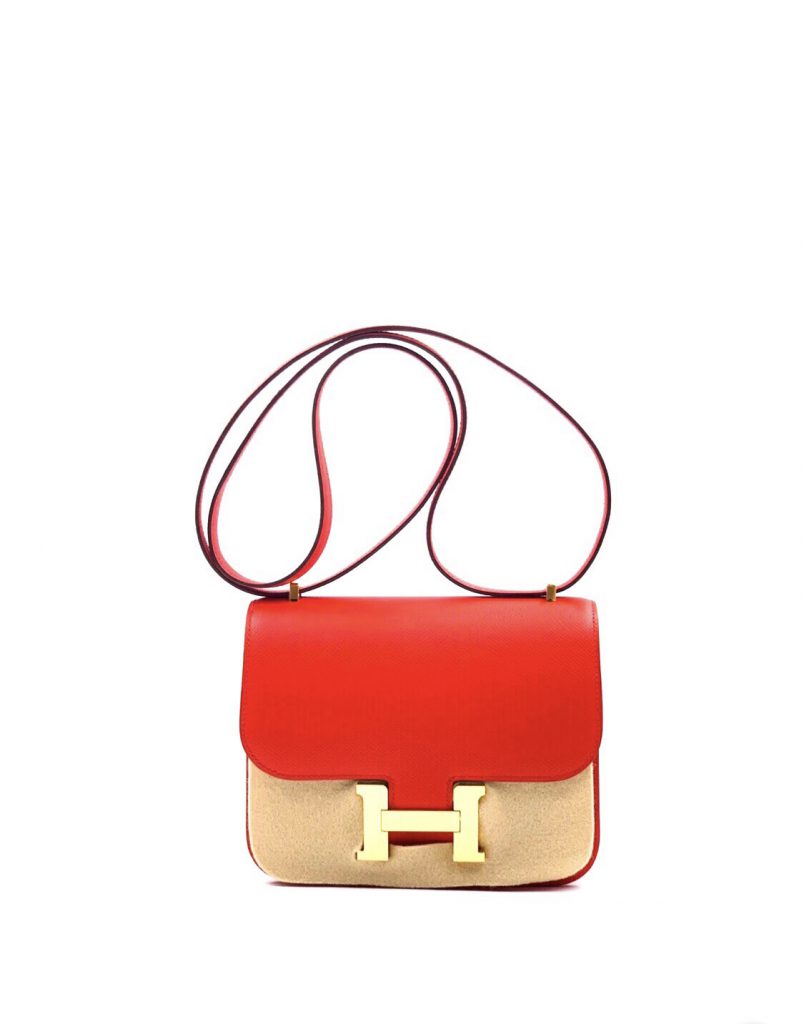 The Hermès bags represent nearly half of the luxury bags sold at auctions over the last 12 years. This is the house that records the highest average price increases on its collections of iconic bags and shows no sign of slowing down.