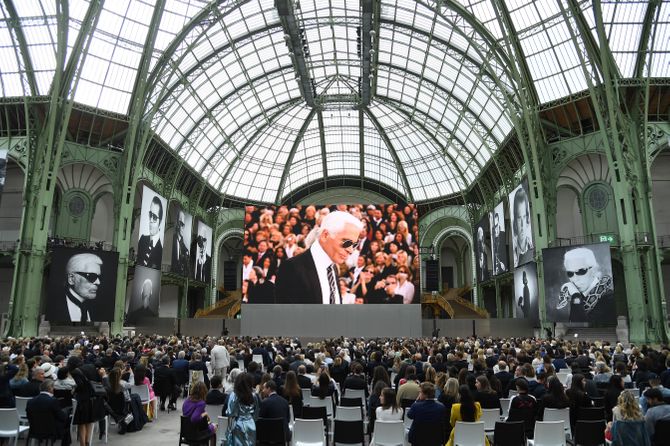 Picture taken at the "Karl for Ever" event at the Paris "Grand Palais" on June 20th 2019.
Karl Lagerfeld's legacy and challenges after his passing
Karl Lagerfeld. An icon in haute couture passed away earlier this year on February 19th. " The Kaiser" was best known for his work in houses Fendi and Chanel as an artistic director. To pay homage to his work and persona, both houses organized the « Karl for Ever » event on June 20th in the « Grand Palais » located in Paris. Many celebrities attended the event including former and present models such as Claudia Schiffer, Carla Bruni, Gigi Hadid. His close friends along the likes of Caroline de Hanovre also attended. The event, instead of mourning his passing, focused on celebrating and highlighting his talent.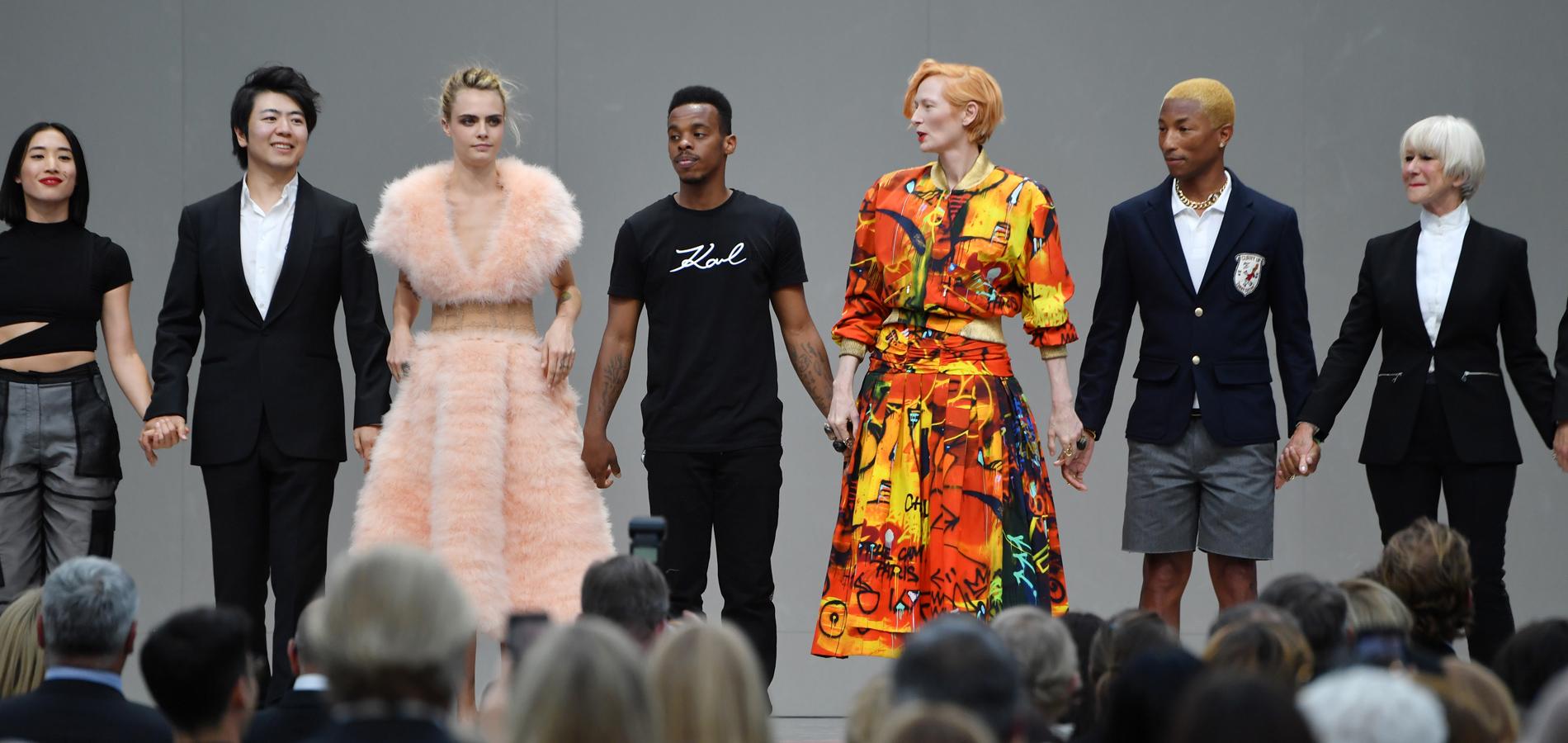 From left to right : Lang Lang, Cara Delevingne, Lil Buck, Tilda Swinton, Pharrell Williams and Helen Mirren
Karl's vocation as a fashion designer and beginnings in the industry
In fact, fashion was everything for Lagerfeld. It is said that his vocation as a fashion designer dates back to December 13, 1949, at age 16. On this day, he accompanied his mother to his first fashion show organized by Christian Dior at the Esplanade Hotel in Hamburg. Passionate about drawing, the young Karl starts to draw models.
After working as a fashion illustrator, he moved in 1954 to Paris, in 7 quai Voltaire. On November 25, 1954, he won the first prize in the "International Wool Secretariat" competition, organized by the brand Woolmark. He then tied with another great name in haute couture, Yves Saint-Laurent. The couturier Pierre Balmain, who was part of the jury, remarked his talent and recruited him as his assistant from 1955 to 1962.
From there on, he worked for Jean Patou in 1959 and designed Chloé's ready-to-wear and accessories collections in 1963 until 1983.

The Kaiser's rise to fame : Working for Fendi and Chanel
In 1965 Karl Lagerfeld joined Fendi as artistic director, a position that he held until his passing. His work there also includes designing the famous brand's logo. His popularity will thrive once more when, in 1983, he is appointed as Chanel's artistic director. At this time, the house had financial turmoil and risked complete closure. It was his mission to relaunch its activity.
A legitimate question has however been the subject of many discussions since his passing : what will happen to the houses' he supervised, namely Fendi and Chanel as well as his « Karl Lagerfeld » brand?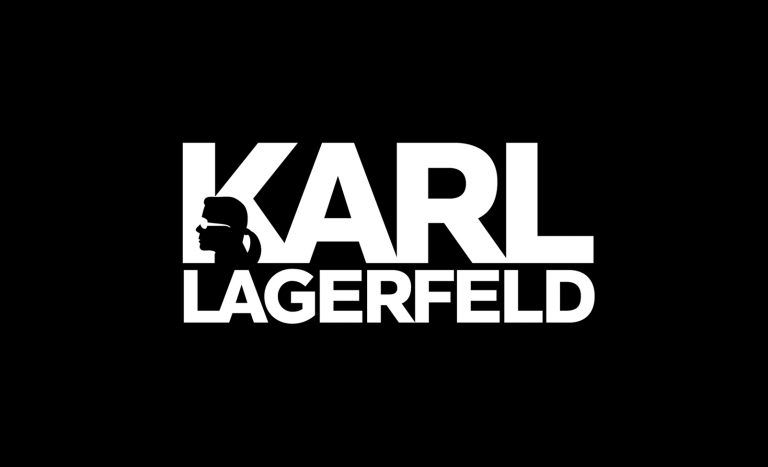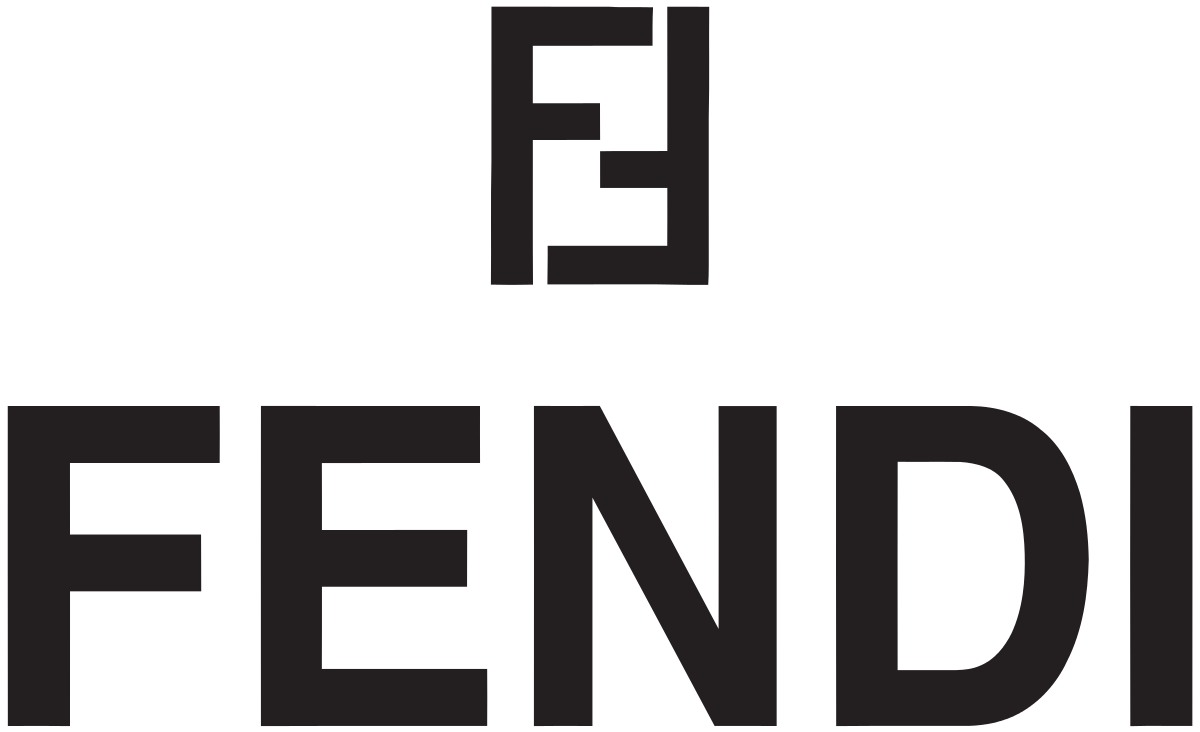 In Karl Lagerfeld brand, the reins of creation were given to Hun Kim, who worked hand in hand with Karl Lagerfeld. It also welcomes Carine Roitfeld as a style advisor for three seasons. The fashion editor, part of Karl's team for ages, will also release in November the capsule Karl according to Carine, validated by the Kaiser.
Fendi appointed Silvia Venturini Fendi, the creative director for menswear and accessories, to take over the women's clothing department which Karl was in charge of. She is the creator of the famous "Baguette Bag" and worked over 30 years with Lagerfeld.
Regarding Chanel, Virginie Viard, Karl Lagerfeld's right-hand man for two decades, will serve as artistic director of the fashion collections for haute couture, ready-to-wear and accessories. Eric Pfrunder will keep his position as artistic director of the fashion image of the house.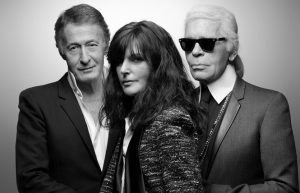 From left to right : Eric Pfrunder, Virginie Viard and Karl Lagerfeld.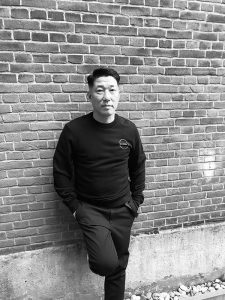 Artistic director Hun Kim
What is at stake in the companies Lagerfeld supervised
Therefore, in all cases, the houses preferred continuity by choosing people who worked closely with the Kaiser. Nevertheless, it remains a major challenge given the turnover of said companies.
Last year, Chanel, one of the few luxury brands still independent, performed a 12.5% increase to its turnover reaching $ USD 11,1 billion. Its net profit was $ USD 2,166 billions, an increase of 16%. As for the Group's operating profit, it reached $ USD 2,998 billion euros (+ 8%).
Full financial report for the year 2018 can be found on Chanel's website.
All of this was during Karl Lagerfeld's supervision and we can only hope that his successor Virginie Viard will be as successful and prolific as he was.
Be sure to check our collection of Chanel items here.